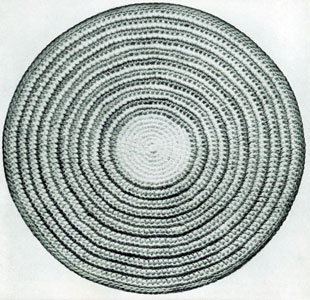 Materials: KENTUCKY LUSTERSPUN YARN— 24" Rug, 7 Skeins—25" Rug, 8 Skeins—28" Rug, 10 Skeins—Crochet Hook Size I or 8.
Instructions: To start, Chain (ch) 4, turn on 2nd ch from hook and sc 6 around chain to form first round. 2nd Round—Continue to sc around, inc in every other st (That will be 9 sts). 3rd Round—Sc around, increasing about every 3rd st. 4th and following round—Continue to sc around rug, increasing at various points as needed to keep rug flat. Be sure not to increase at same point in circle in all rounds, to avoid forming an undesirable pattern and to keep rug truly round. Work a sl st over the back stitch of the last row of sc.
To Change Colors: Break off the yarn, leaving a 3" length, and slip this through the back of the next stitch. Turn rug around about half way and start with the new color. Continue to sc around as before, and when you come to the 3" length of the previous color, carry it in with the new color. This manner of joining colors will give complete and even rows. (Do not start a new color at point where you break off old color.)

Other great patterns from Rugs, Sweaters, Pot Holders, Lamp Shades, Book No. 107.
Knitting Patterns
Cable Knit Sleeveless Sweater
Slipover Sweater
Child's Beret
Checker Scarf
Mittens

Crochet Patterns
Hexagon Rug
Rectangle Rug I
Rectangle Rug II
Oval Rug
Circle Rug
Pinwheel Potholder
Square Potholder
Table Pads
Place Mats
Craft Patterns