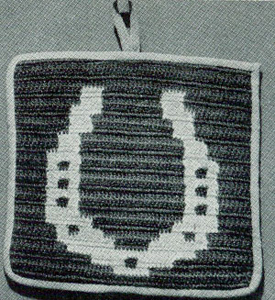 MATERIALS:
J. & P. COATS CROCHET CORD, 1 ball each of light and dark colors.
Steel Crochet Hook No. 6 or 7.
1 yard bias trim.
GAUGE: 10 dc make 1 inch; 4 rows make 1 inch (1 square on chart is equivalent to 3 dc).
To Change Color: Before drawing through last 2 loops of last dc of one color group, drop this color, pick up 2nd color, thread over and draw through the 2 loops on hook. Continue with 2nd color according to chart, carrying the dropped color along top of previous row and working over it to conceal it.
With Dark, ch 65. 1st row: Dc in 4th ch from hook and in each ch across (63 dc, counting turning ch as 1 dc). Ch 3, turn. 2nd row: Dc in each dc and in top st of turning ch. Ch 3, turn. 3rd row: Holding Light along top of last row, with Dark make dc in each of 26 dc (thus concealing Light), changing color in last dc of Dark color group. With Light, make dc in each of 9 dc, carrying Dark concealed in dc's and changing color in last dc of Light group; with Dark, make dc in each of 27 dc. Ch 3, turn. 4th row: Make 20 Dark dc, 9 Light dc, 3 Dark dc, 9 Light dc, 21 Dark dc. Ch 3, turn. Starting with 5th row, follow chart to top. Fasten off.
Make another piece same as this, only reversing colors. Place padding (for padding, see pattern book) between crocheted pieces and bind edges together with bias trim. Make a bias trim loop at top.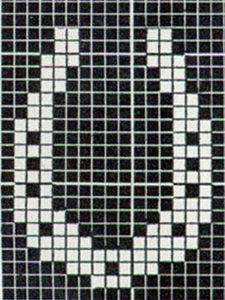 Other great patterns from Pot Holders, Book 196:
Crochet Patterns
Flower Pot Pot Holder
Ma, Pa & Baby Pot Holder
Teacup Pot Holder
Wall Pocket Pot Holder
Butterfly Pot Holder
Fruit Slice Pot Holder
Scallop Pot Holder
Double Wheels Pot Holder
Cat Pot Holder
Tulip Pot Holder
Bell Pot Holder
Hot Spot Pot Holder
Pinwheel Pot Holder
Salt & Pepper Pot Holder
Checkerboard Pot Holder
Horseshoe Pot Holder
Strawberry Pot Holder
Water Pitcher Pot Holder
Oven Mitt I Pot Holder
Oven Mitt II Pot Holder
Star Pot Holder
Hexagon Pot Holder
Diamond Pot Holder
Double Diamond Pot Holder
Square Pot Holder
Striped Square I Pot Holder
Striped Square II Pot Holder
Circle Pot Holder
Striped Circle Pot Holder
Variegated Circle Pot Holder