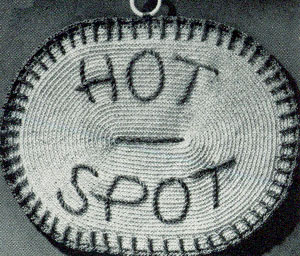 MATERIALS:
J. & P. COATS or CLARK'S O.N.T. PEARL COTTON, size 5, 3 balls of light and 1 ball of dark color.
Steel Crochet Hook No. 6.
A bone ring.
Starting at center, with Light ch 23 (to measure about 2 ¼ inches). 1st rnd: Sc in 2nd ch from hook and in each ch across to last ch, 3 sc in last ch; now, working along opposite side of foundation chain, work sc in each st across, 2 sc in same place where 1st sc was made. Do not join rnds. Hereafter work only in the back loop of sc's. 2nd rnd: Sc in each sc around, increasing as necessary at ends of oval to keep work flat—to inc an sc, make 2 sc in 1. Repeat 2nd rnd until piece measures about 6 x 7 ½ inches. Fasten off. Attach dark color and work sc in each st around. Fasten off. Make another piece same as this.
CORD FOR LETTERING ... Cut 3 strands of Dark each 3 yards long. Twist strands tightly; then double the twisted strands and give them a second twist in the opposite direction. Knot loose ends to prevent raveling. On a piece of paper cut same size and shape as one piece of crochet, print "Hot Spot" as illustrated. Pin paper onto crocheted piece and, with matching sewing thread, sew cord through paper to crochet, following printing on paper. Cut cord where necessary, allowing enough to pull through to wrong side. Fasten ends of cord securely on wrong side. Place wrong sides together and, with lettered side facing, attach Dark in a st on outer edge. Then, working through both thicknesses, make * sc in 3 sts, make a long tr in next st—to make a long tr, thread over hook twice, insert hook in front loop of next st 3 ridges down and pull loop through, (thread over and draw through 2 loops) 3 times. Repeat from * around. Join and fasten off. Sew on ring.
Other great patterns from Pot Holders, Book 196:
Crochet Patterns
Flower Pot Pot Holder
Ma, Pa & Baby Pot Holder
Teacup Pot Holder
Wall Pocket Pot Holder
Butterfly Pot Holder
Fruit Slice Pot Holder
Scallop Pot Holder
Double Wheels Pot Holder
Cat Pot Holder
Tulip Pot Holder
Bell Pot Holder
Hot Spot Pot Holder
Pinwheel Pot Holder
Salt & Pepper Pot Holder
Checkerboard Pot Holder
Horseshoe Pot Holder
Strawberry Pot Holder
Water Pitcher Pot Holder
Oven Mitt I Pot Holder
Oven Mitt II Pot Holder
Star Pot Holder
Hexagon Pot Holder
Diamond Pot Holder
Double Diamond Pot Holder
Square Pot Holder
Striped Square I Pot Holder
Striped Square II Pot Holder
Circle Pot Holder
Striped Circle Pot Holder
Variegated Circle Pot Holder