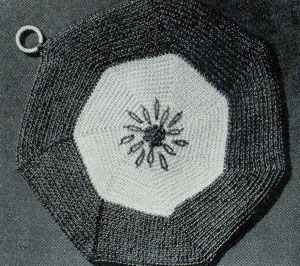 MATERIALS:
J. & P. COATS or CLARK'S O.N.T. PEARL COTTON, size 5, 1 ball each of White and any color.
Steel Crochet Hook No. 6.
Gingham or cotton fabric for lining.
1 bone ring.
With White, ch 2. 1st rnd: 7 sc in 2nd ch from hook (do not join sc rnds). 2nd rnd: 2 sc in each sc around. 3rd rnd: * Sc in next sc, 2 sc in next sc. Repeat from * around. 4th rnd: * Sc in sc, 2 sc in next sc. Repeat from * around. Continue thus, increasing 7 sc evenly on each rnd until piece measures 4 inches in diameter, sl st in next st. Fasten off. With color, embroider as in illustration making French knots in center and encircling them with 2 rnds of lazy daisy stitches. Work border as follows: Attach color and work sc in the back loop only of each sc, continuing increases as before until color is all used up. Fasten off.

Pad and line pot holder (for padding, see pattern book). Sew ring in place.
Other great patterns from Pot Holders, Book 196:
Crochet Patterns
Flower Pot Pot Holder
Ma, Pa & Baby Pot Holder
Teacup Pot Holder
Wall Pocket Pot Holder
Butterfly Pot Holder
Fruit Slice Pot Holder
Scallop Pot Holder
Double Wheels Pot Holder
Cat Pot Holder
Tulip Pot Holder
Bell Pot Holder
Hot Spot Pot Holder
Pinwheel Pot Holder
Salt & Pepper Pot Holder
Checkerboard Pot Holder
Horseshoe Pot Holder
Strawberry Pot Holder
Water Pitcher Pot Holder
Oven Mitt I Pot Holder
Oven Mitt II Pot Holder
Star Pot Holder
Hexagon Pot Holder
Diamond Pot Holder
Double Diamond Pot Holder
Square Pot Holder
Striped Square I Pot Holder
Striped Square II Pot Holder
Circle Pot Holder
Striped Circle Pot Holder
Variegated Circle Pot Holder