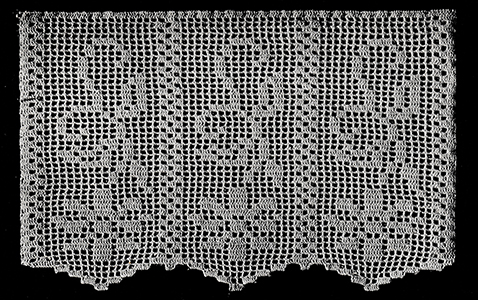 Materials: No. 5 Clark's O.N.T. or J. & P. Coats Mercerized Crochet, White or Ecru and No. 5 Milward's steel crochet hook. Gauge work measures 4 meshes along row to the inch, 4 rows to the inch. Backpiece. Begin across top edge. Ch 184, turn, skip 3 ch, 1 d c in each ch to end. 2d row: Ch 3, 7 d c, * ch 2, skip 2, d c in next; repeat from * until 18 sps have been made. 4 d c (1 bl) after last sp. 18 sps, 1 bl, 18 sps, 7 d c at end. Continue, following pattern until 45 rows have been made. 1st scallop row: Turn, sl st to 4th d c. Ch 3, 3 bl and work according to pattern. At end omit 1 bl and turn as though at end of row. 2d narrowed row: Sl st along 1 st 3 bl, ch 3, make 2 bl, 10 sps, 2 bl, turn. 3d row: Sl st along 2 bl, make 2 bl, 6 sps, 2 bl, turn. Continue until all the rows for the side scallops have been made. Make each section in same way, taking care to have the 1st row in all sections worked in same directions. Armpiece. Armpieces are worked same as backpiece, following pattern. Begin with ch 70 and along ch work 67 d c.
These chair sets offer a variety of designs to suit the different types of furniture on which they will be used. To get the desired effect, use the size of thread and crochet hook indicated. Should you prefer to use the soft finished unmercerized Clark's O.N.T. Knitting and Crochet Cotton, you will find that Milward's steel crochet hook No. 6 is the correct size.
This set is very pretty in self-shading color to harmonize with the color scheme of a room. Ecru is also popular because it blends with all colors so beautifully.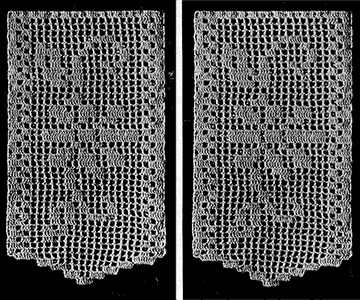 other patterns in leaflet: