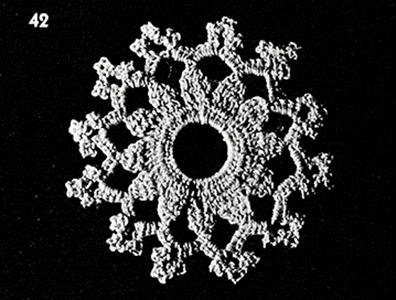 Remember that you need a crochet thread of a size, texture, lustre, and color or shaded color right for the purpose. The thread should be of a quality to wear so that it will not break and make your work valueless. The color must be Boilfast so that innumerable washings will not fade it. These necessities to good work are found in both Clark's O.N.T. and J. & P. Coats Threads.
Mercerized Crochet is made in sizes 1 to 100 in white, and 1 to 70 in ecru; Boilfast colors in sizes 30 and 50. Size 1 is the coarsest, 100 the finest.
Wind a thick ring around finger and over ring work 48 s c. 2d rnd: Sl st in 1st s c, ch 6, 1 d tr each in next 3 s c. For each d tr work off 2 loops 3 times, holding remaining loops back on needle, and after 3d d tr draw through all loops at once to form cluster. * Ch 7, make a cluster of 4 d tr over next 4 s c. Repeat from *, 12 clusters in rnd. After last cluster ch 7 and join to top of 1st cluster. 3d rnd: In each 7-ch loop make 4 s c, ch 5, catch to 5th ch from hook for p, make 2 more p in same way, 4 s c in loop.
other patterns in leaflet: