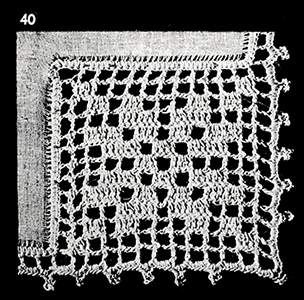 Remember that you need a crochet thread of a size, texture, lustre, and color or shaded color right for the purpose. The thread should be of a quality to wear so that it will not break and make your work valueless. The color must be Boilfast so that innumerable washings will not fade it. These necessities to good work are found in both Clark's O.N.T. and J. & P. Coats Threads.
Mercerized Crochet is made in sizes 1 to 100 in white, and 1 to 70 in ecru; Boilfast colors in sizes 30 and 50. Size 1 is the coarsest, 100 the finest.
To be used on hemstitched or drawn thread edge with 2¼ inch squares cut out at corners. Fill holes of hemstitching with s c, making 36 s c down each side of corner cutouts, and 2 s c at the inner corner. 2d row: Start ½ inch before corner. 1 d c in 1st s c, ch 2, skip 2, d c in next. Repeat to corner, making 1 d c in point. Ch 5, d c in same place with last d c. Work as before, making 11 sps to inner point of corner, last d c worked in 4th st from point. Do not work off last 2 loops of last d c. Pick up for d c in 3d st after corner, and work off 2 loops, then 3 loops. Ch 2, d c in 4th st along edge. Turn, 2 d c in sp made before point, d c in next d c. Work 9 sps along row before point, bl over next sp, 1 sp at end. 3d corner row: 2 sp, 1 bl, 1 sp, 1 bl, 3 sp, 1 bl, 1 sp, 1 bl; ch 2, d c in last d c of next bl holding last 2 loops back on hook. Pick up for d c in 3d st along edge, work off 2 loops, then 3 loops. Ch 2, d c in 3d st along edge. Turn, and follow the pattern for remainder of corner design, at inner end turning all the rows as instructed for 3d and 4th rows. When corner is completed continue along edge as before corner. 2d edge row: 3 s c in 1st sp, and in 2d sp make 2 s c, ch 5, and sl st in 3rd ch from hook for a p, 2 s c. Repeat from beginning. Arrange work so that a p comes at point of corner and make 4 s c at each side of it. To do this, it may be necessary to make 3 s c in each of 2 sp before and after corner.
other patterns in leaflet: