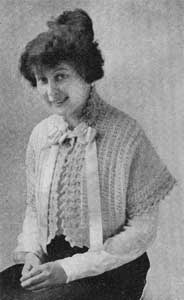 MATERIAL-4 skeins of white and 3 skeins color Woolco Shetland Floss. No. 4 Woolco hook. 2 yards of ribbon.
With white, chain 171.
1ST ROW-Skip 2 stitches. *Make a double crochet in each chain*, 6 double crochet in center stitch.
2D ROW-*Draw a loop through both loops, wrap, draw a loop through next stitch, wrap, take off 4 loops, chain 1*, make a pattern stitch in center stitch.
3D ROW-*2 double crochet in eye of each group*. Repeat 2d and 3d rows, always increasing in center stitch each row.
Work even for 27 rows. Then leave off 9 groups from center of back on each side for 2 rows. Join together 10 groups leaving remainder for armhole.
With color make 4 rows crazy stitch around jacket and sleeves.
Finish with picot of *4 single crochet, 1 in each stitch, 3 chain, and 4 single crochet* around border.
other patterns in leaflet: