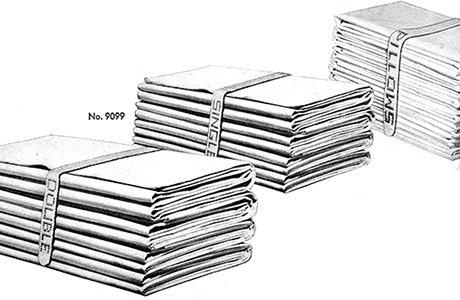 Materials: Clark's O.N.T. or J. & P. Coats Pearl Cotton, size 5, 4 balls of any color.
Clark's O.N.T. or J. & P. Coats Six Strand Embroidery Floss, 2 skeins of a contrasting color.
Milward's steel crochet hook No. 7 or 8.
Starting at narrow end, ch 13. 1st row: Tr in 5th ch from hook and in each ch across. Ch 4, turn. 2nd row: Tr between 1st and 2nd tr, * tr between this and next tr. Repeat from * across. Ch 4, turn. Repeat 2nd row until piece measures 28 inches. Ch 1, turn. Next row: S c in each st across. Ch 1, turn. Repeat this row until piece measures 1 yd. in all. Fasten off. Make 2 more pieces like this. Sew a lead weight to end of s c-sections, turning up corners.
Embroidery … Embroider the s c-section of each strip with Six Strand, using cross stitch for the words "PILLOWS," "SINGLE" and "DOUBLE."
other patterns in leaflet: