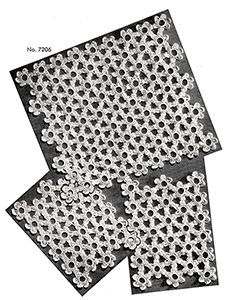 Materials: Clark's O.N.T. or J. & P. Coats Pearl Cotton, size 5, 7 balls of any color.
Milward's steel crochet hook No. 5 or 6.
Completed chair back measures about 13½ x 15½ inches; arm pieces measure about 7½ x 10½ inches.
Chair Back. Motif … Wind thread (loosely but evenly) around tip of thumb 8 times. Make 36 s c in ring. Join. Next rnd: * Ch 4, skip 1 st, tr in next 3 sts, ch 4, skip 1 st, sl st in next. Repeat from * around, joining last ch-4 to base of ch-4 first made. Fasten off. Make 77 motifs and join as in illustration, sewing together 3 tr's of each petal to adjacent tr's.
Arm Pieces … Make 28 motifs for each arm piece, and join as in illustration.
other patterns in leaflet: