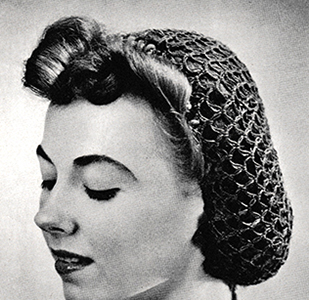 Materials: Clark's O.N.T. or J. & P. Coats Pearl Cotton, size 5, 1 ball of main color and 1 ball of a contrasting color.
Milward's steel crochet hook No. 7.
18½ inches of round elastic.
Snood … Starting at tip of crown, with main color ch 6, join with sl st. 1st rnd: * S c in ring, pull loop on hook out 1 inch, thread over and draw through loop, ch 1 to fasten (a loop st). Repeat from * 12 more times. Now make a loop st in each loop st around, increasing as necessary to keep work flat, until piece measures 9½ inches in diameter—to inc. a loop st, make 2 loop sts in 1 loop st. Then work 7 rnds straight. Overlap ends of elastic ½ inch, and sew securely. Working over elastic, ch 1 and make 6 s c in 1st loop, and 10 s c in each loop around. Fasten off.
Cord Trimming … Cut 12 strands of contrasting color, each about 2½ yds. long; twist tightly, then double the twisted strands and give them a second twist in the opposite direction. Pass cord in and out of loops along one half of outer rnd of snood. Cut off excess length of cord and sew ends securely in place.
other patterns in leaflet: