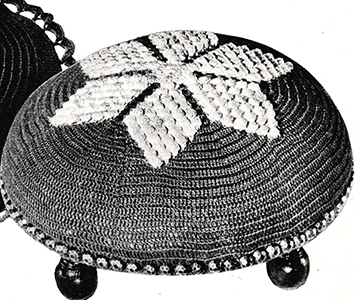 Materials: Clark's O.N.T. or J. & P. Coats Pearl. Cotton, size 5, 4 balls of a solid color and 2 balls of a shaded color.
Milward's steel crochet hook No. 8.
A circle of soft wood, about 10 inches in diameter.
3 wooden doorstops.
A small pillow about 10 inches in diameter and 2 inches thick.
6 dozen upholsterer's tacks.
Starting at center, with shaded color ch 4 and work exactly as for Pillow Top until piece measures 8½ inches in diameter. Then, with dark color, work all around without increasing for 2¼ inches. Fasten off.
Place pillow over wooden circle and cover with crocheted piece, holding it smooth and tight by sewing back and forth across underside of wood. Ornament edge of wood with tacks. Screw doorstops to bottom of wood.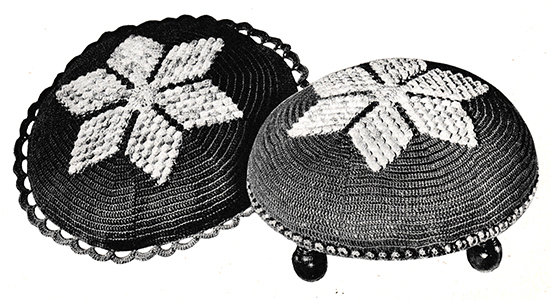 other patterns in leaflet: