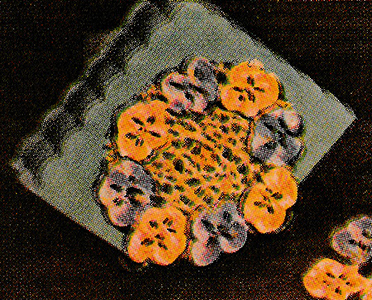 "PANSIES" NAPKIN STAND
MATERIALS—D-M-C Pearl Cotton, Art. 116D, Size 8: 2 balls Yellow Ombre No. 90 (A), 1 ball Contrasting Ombre No. 58 or No. 55 or No. 71 (B).
Steel Crochet Hook, Size 8.
1 Napkin Stand as shown.
CENTER—Work to end of rnd 8 of Center of Large Hot Plate Mat. Rpt rnd 8. Fasten off. Block and press. Make 4 Pansies each of A and B as for Pansy of Large Hot Plate Mat. Alternating color A and color B, join Pansies into ring as shown, tacking together Picots that are not marked. Sew Pansy ring around Center as shown. With A chain 20 inches, fasten off, with this chain, lace last row of Center to Napkin Holder, tie with a bow knot. Make another piece to correspond.
other patterns in leaflet: