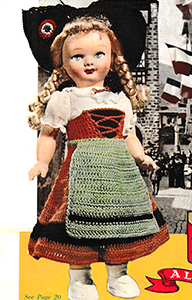 Resting snugly against the Vosges mountains in northeast France, Alsace is a beautiful plain in the Rhine valley. It is extraordinarily fertile, offering an abundance of grapes, fruits, and cereals. Alsatian wine and beer are held in high repute.
Albert Schweitzer calls Alsace his home in the little village of Gunsbach. Bartholdi, sculptor of the "Statue of Liberty" was born at Colmar, a town which still retains much of its Alsatian character.
Alsace has, of course, played an important role in the industrial growth of France because of the area's great resources of coal and iron. Availability of these two important minerals always encourages the development of heavy manufacturing and this has been the situation here where many types of factories are producing products for both home use and export.
Of major interest to the world is the city of Strasbourg where Guttenberg, according to a majority of historians, invented the art of printing. Of major importance to the needlecraft art is the powerful industrial city of Mulhouse where, in 1746, Dollfus-Mieg & Cie. founded a great textile industry whose products are distributed to every country of the world under the name of D•M•C.
INSTRUCTIONS ALSACE
MATERIALS: D•M•C Pearl Cotton, Art. 116D, Size 5: 4 balls Red No. 350, 1 ball Black No. 310, 1 ball Lt. Emerald No. 913.
D•M•C Pearl Cotton, Art. 116D, Size 8: 2 balls Black No. 310, small amount of Blue, White and Red for Cocarde.
Steel Crochet Hooks, Size 5 and Size 8.
SKIRT: The skirt is worked back and forth in one piece with a seam in the back. Starting at waist, with Red and Size 5 hook, ch 50. Work 5 rows of sc increasing in every other stitch on 2nd row and in every 10th stitch on each of the following rows. On 6th row change to dc; continue to increase in every 10th stitch on every other row. Work until skirt measures about 3½". Work 2 rows of Black then 2 rows of Red. Sew seam leaving a 2" opening at top. Close with a snap.
WAIST: With Red and Size 5 hook, ch 40. Work 16 rows of sc. For inset, with Black (Size 8) and Size 8 hook, ch 12. Work in sc for 12 rows increasing 1 stitch at each side on 3rd and 7th rows. With Red, make a cord and lace over inset as shown.
APRON: With Green and Size 5 hook, ch 90. Work 3 rows of sc. Work 1 row of dc across center 18 sts increasing in every stitch. Work 11 rows of dc. With Black, work 2 rows of sc. With Green, work 2 rows of dc. Work 1 row of sc around the three sides.
HEAD-DRESS: For crown, with Black (Size 5) and Size 5 hook, ch 3 and join. Round 1: Work 3 sc in each ch. Round 2: Work 2 sc in every other stitch. Round 3: Work 2 sc in every 3rd stitch. Continue in this way spacing increases to shape crown to fit the head. For bow, with Black (Size 8) and with Size 8 hook, ch 30. Work in dc until band measures 24". Make large bow held together with a small band of sc — ch 20, work 4 rows of sc. Sew bow to front. Make a cocarde in sc with 1 round each of Blue, White and Red — increase in about every other stitch to keep it flat.