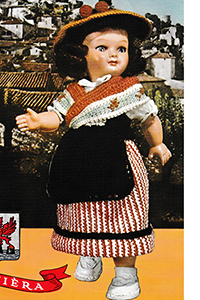 It is claimed, and no doubt rightfully, that France is the greatest tourist attraction of all the countries of the world. Much of this attraction can be found along the French Rivièra where the famous and rich seek the warm climate and luxurious accommodations only to be imitated by the unknown and lesser endowed tourist seeking the same relaxing atmosphere of this enticing playground.
Principal resort cities of the Rivièra, Nice and Cannes, are names easily recognized by most people. These are part of a delicately lace-cut coastline stretching from Carsis to Vintimiglia.
Reaching inland and upward toward the Alps is the back country known as Provence, which is like no other in France. Olive trees, reflecting the clear blue Mediterranean skies, shimmer against the hills forming a backdrop for dancing, laughing towns lining the sun-swept coast.
As if to further emphasize the luxury of this region, Grasse produces the floral essences from which the many rare and costly French perfumes are formulated. In addition to the growing of citrus fruit, the ever present vineyard is a part of the contribution of this area.
In the colors of the provencial costume are found the warm red of the sun, the green of the olive and vine, and topaz of the mimosa.
INSTRUCTIONS RIVIÈRA
MATERIALS: D•M•C Pearl Cotton, Art. 116D, Size 5: 1 ball White, 2 balls Red No. 350, 1 ball Black No. 310, ½ ball Topaz No. 783, ½ ball Nile Green No. 954, ½ ball Lt. Emerald No. 913, ½ ball Turkey Red No. 321, ½ ball Ecru.
Steel Crochet Hook, Size 5.
SKIRT: The skirt is worked lengthwise in one piece with a seam in the back. With Red No. 350 and Size 5 hook, ch 50. Work in sc alternating 1 row of Red with 1 row of White until there are 132 rows in all — always break thread after each stripe. Run in threads, sew seam leaving a 2" opening at top. Work 2 rows of slip-stitch or sew a narrow crocheted band at bottom of skirt and turn up edge as shown. For waistband, with Red, ch 50. Work 4 rows of sc. Gather skirt at top and sew to waistband. Close with a snap.
WAIST: The waist consists of a straight band. With Black, ch 42. Work 12 rows of dc. Make a tiny cord and lace in front.
APRON: With Black, ch 90. Work 2 rows of sc. Work 1 row of sc across center 16 sts increasing in every stitch. Work 22 more rows of sc. Work 1 row of dc (with ch 1 between) around the three sides — in order to give a lace effect, place the dc in every other row at the sides and in every other stitch at lower edge; keep corners square by working 3 dc in one stitch.
HAT: For crown, with Topaz, ch 3 and join. Round 1: Work 2 sc in each stitch. Work 5 more rounds of sc increasing about 6 sts in each round — to keep work flat. Work 1 row of dc and 1 row of sc without increasing. For brim, work in dc as follows: Round 1: 2 dc in every other stitch. Round 2: 2 dc in every 5th stitch. Round 3: 2 dc in every 6th stitch. Round 4: 2 dc in every 7th stitch. Round 5: 2 dc in every 5th stitch. Round 6: 2 dc in every 10th stitch. Round 7: 2 dc in every 7th stitch. Work the two cherries in Red No. 321 making a firm disc of 5 rows then stuff with cotton and work around for 2 or 3 rows decreasing to make a ball. Draw together. Ch a green stem and make a tiny leaf for each cherry — ch 5 then work 4 sc and 1 slip-stitch. Sew to hat as shown.
SHAWL: With Red No. 350, ch 73. Work 1 row of slip-stitch. Row 2: Skip the first 2 sts, work 11 slip-sts, 12 sc, 11 dc, work 3 dc in next stitch, 11 dc, 12 sc, 11 slip-sts. Continue in this manner leaving off 2 sts at each end of every row and working 3 dc in center stitch until there are 6 rows in all. For border, with Ecru, work 2 rows of sc continuing the 11 slip-sts at each end and working 3 sc in center stitch. Work 3 rows of Green in the same way then end with 1 row of Ecru. Embroider little red daisies around the edge as shown.