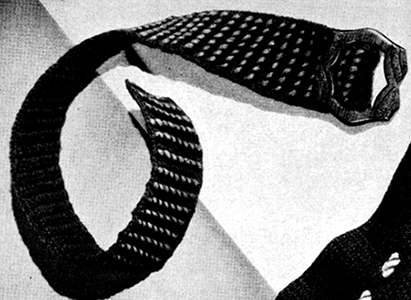 Materials: Chadwick's Red Heart Germantown Zephyr, 2 balls (1 oz. balls) of main color and 1 ball of a contrasting color. If 30 yd. balls are used, buy three times the amount specified.
Milward's steel crochet hook No. 1.
A wooden slide.
Starting at one end, with main color ch 16 (to measure about 2¾ inches). 1st row: D c in 4th ch from hook, d c in each ch across. Ch 1, turn. 2nd row: S c in 1st d c, insert hook between 1st and 2nd d c and bring it out between 2nd and 3rd d c, yarn over hook, draw loop through, yarn over hook, draw through both loops on hook. Insert hook between 2nd and 3rd d c, bring it out between 3rd and 4th d c, and work as for previous stitch. Continue in this manner across, ending row with s c in turning ch-3. Ch 3, turn. 3rd row: Skip 1st s c, d c in each s c across. Ch 1, turn. Repeat these last 2 rows alternately for desired length. Work a row of s c all around edges. Break off.
Embroidery. With two strands of contrasting color, work over-and-over stitches into every other stitch on ridges of belt. Sew slide to one end of belt.
other patterns in leaflet: