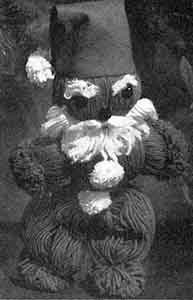 Materials Required:
AMERICAN THREAD
"AUNT LYDIA'S" HEAVY RUG YARN
7 – 70 yd. skeins Red
1 – 70 yd. skein White
3 Black Buttons
⅓ yd. Red Felt
Work body, arms and legs same as the Snowman Doll Pattern. Sew buttons in place for eyes and nose.
HAT: Cut a triangle 16½ x 14½ x 14½ inches of Red felt. Fold and seam the two 14½-inch edges tog for back seam. Turn about ½ inch under and tack in position to head. Finish with a pompon.
POMPONS: Wind White 40 times over a 2 inch cardboard, slip off cardboard, tie in center, cut both ends, trim into shape. Attach to top of hat. Work 2 more pom­pons and attach in place for buttons.
WHISKERS: With White work a 7 inch ch. Cut yarn into 6 inch lengths. Fold 4 lengths in half and knot through each ch. Brush slightly and trim.
MUSTACHE: Cut 10 strands 10 inches long. Tie in center. Sew in place. Brush and trim.
EYEBROWS: Take 4 strands 1½ inches. Tie in center. Open strands. Glue in place.
other patterns in leaflet: