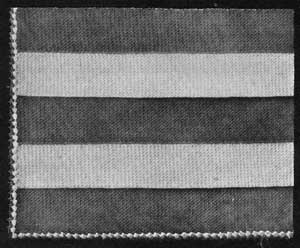 MATERIAL-3 boxes of dark and 2 ½ boxes of light Woolco Germantown Zephyr. No. 2 Woolco hook.
Chain 31.
1ST ROW-Skip 1 stitch, *1 single crochet in next stitch, 1 double crochet in next stitch. * Repeat to end of row.
2D ROW-*1 single and 1 double crochet in single crochet, taking both loops. *
Repeat 2d row until stripe is as long as required.
Make 3 stripes of dark color and 2 of light.
With dark, join with single crochet.
BORDER-With light make a shell, and picot of dark color.
other patterns in leaflet: