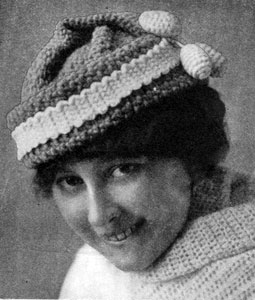 MATERIAL-4 skeins color and 1 of white Woolco Germantown Zephyr. No. 3 ½ Woolco hook.
Chain 105. Join rows with slip stitch, chain 1.
1ST ROW-*1 single crochet in first stitch, 1 double crochet in next stitch. *
2D ROW-*1 single and 1 double in each single crochet. * Repeat 2d row 9 times. Work 9 more rows, joining rows, but turn at end.
Decrease 1 stitch at each end of row 7 times. Next row decrease in *1st and 5th stitches*. From now on work in single crochet, taking both loops, do not turn at end of row. Decrease 1 stitch every 5th stitch, repeat this row twice. Work 6 rows even. Work 15 rows, decreasing in first and last stitches. Fasten off. Turn the first two rows over on the wrong side to hide the chain, tack it in place so as to form a band 2 ½ inches broad.
With white chain 5. 1ST ROW-Make 4 single crochet, taking both loops, turn, chain 3.
Repeat until long enough to go around cap.
ROUND ORNAMENTS-White, chain 3, join.
1ST ROW-8 single crochet in ring.
2D ROW-2 single crochet in each stitch.
3D ROW-*2 single crochet in 1st stitch, 1 in next. * 2 rows even.
6TH AND 7TH ROWS-Decrease in every other stitch. Fill with raw cotton, draw together.
2 LONG ORNAMENTS-White, chain 3, join.
1ST ROW-6 single crochet.
2D-9TH ROWS-12 single crochet. Fill with cotton. Join the long ornaments to the round with 7 chain stitches for each.
other patterns in leaflet: