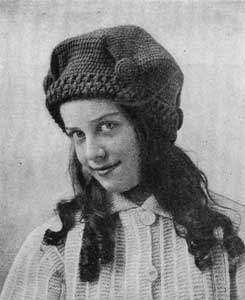 MATERIAL-3 skeins of color Woolco Germantown Zephyr. No. 4 Woolco hook. 4 button moulds.
Chain 101 stitches, join. Chain 1 at end of every round.
1ST ROW-*1 single crochet, 1 double crochet in every other stitch. *
2D ROW-Same as 1st, making the 2 stitches in each single crochet.
Repeat 2d row until band measures 3 inches.
1 row double crochet.
1 row of half double crochet. *Wrap, take up both loops, wrap, take off 3 loops. *
From now on use half double crochet.
In next row *work 24 stitches, in next stitch make 4 stitches. * Repeat across row.
Make 5 more rows, placing 4 stitches in center of 4 in row below.
Decrease 2 stitches every corner until there are 4 stitches; draw these together and fasten off.
MOULDS-Chain 3; join. Make 6 single crochet in ring.
2D ROW-2 stitches in each stitch.
Increase until cover is as large as mould. Then decrease 2 rows, insert mould and draw together. Turn up border, bring points down to border, sew a button on each point.
other patterns in leaflet: