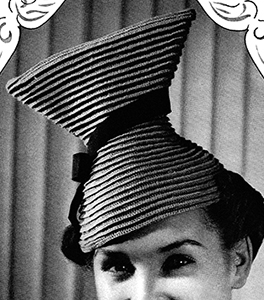 adaptable to any headsize
MATERIALS:
J. & P. Coats Knit-Cro-Sheen, 2 balls of any color.
Milward's steel crochet hook No. 9.
1 yd. grosgrain ribbon, 1 inch wide.
½ yd. feather boning.
Gauge: 12 d c make 1 inch; 13 rnds make 2 inches.
The wrong side of work is right side of hat. Starting at tip of crown, make a chain tightly to measure about 9 inches. 1st rnd: D c in 4th ch from hook, d c in each ch across until there are 96 d c in row, counting turning ch as 1 d c (row should measure 8 inches). Cut off remaining chain. Mark this end with a colored thread. Do not turn, but continue to make d c in each d c along opposite side of foundation chain. Join with sl st to 3rd of turning ch. Mark this end with another colored thread. 2nd rnd: Ch 1, insert hook between turning ch and next d c, and bring it out between this and following d c, draw loop through; * thread over and draw through 2 loops; insert hook between same 2 d c where hook was brought out, bring it out between next 2 d c, draw loop through. Repeat from * around, join. 3rd rnd: Ch 3, d c in each s c around, join. The last 2 rnds constitute the pattern. Work in pattern, decreasing 2 sts at both sides of crown, directly below colored threads, until 90 sts remain in the rnd—to decrease, work off 2 sts as 1 st. Continuing in pattern, inc. 8 d c at equal distances apart on each d c-rnd (do not have increases fall directly over those of previous increase-rnd) until piece measures 21½ inches in circumference. If a larger headsize is desired, make a few more increases. Now work without increasing until piece measures 9¾ inches or desired depth from foundation chain, ending with s c-rnd. Fasten off.
Find center of feather boning, and pin to center of foundation chain. Sew feather boning along foundation chain and down ends marked with colored thread, as far as it goes. Turn hat right side out, and trim with ribbon as in illustration.
other patterns in leaflet: