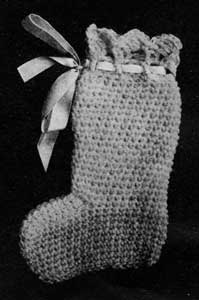 MATERIAL- 1 skein white and 1 skein color Woolco Shetland Floss. No. 3 ½ Woolco hook. 1 yard of ribbon.
With white, chain 30; join with a slip stitch.
Work 18 rows even in single crochet, taking both loops.
Make 10 rows of 10 stitches in afghan stitch. Fasten off.
Join color. Make a single crochet in every stitch and row around bootee.
2D AND 3D ROWS-Narrow 1 stitch each side of toe. 3 rows even.
7TH AND 8TH ROWS-Narrow 1 stitch each side of heel.
Join with slip stitch. Fasten off.
TOP-With white make a single crochet in each chain stitch.
2D ROW-1 double crochet and 1 chain in every 2d stitch.
3D ROW-Join color, make 3 double crochet in every 2d space.
4TH ROW-Make 1 single, 3 chain, 3 double crochet in 1st stitch of the group of 3 double crochet. Fasten off. Lace ribbon in spaces.
other patterns in leaflet: