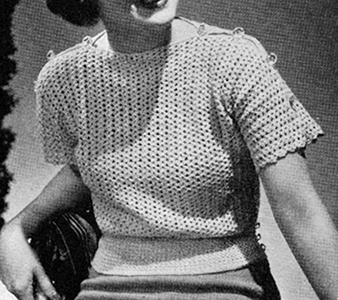 Size 16
MATERIALS
Clark's O.N.T. or J. & P. Coats Pearl Cotton, size 5, 15 balls.
Milward's steel crochet hook No. 2.
16 buttons.
Gauge: 2 shells make 1¼ inches; 3 rows of shells make 1 inch.
BACK … Starting at bottom of waistband, make a chain 18 inches long. 1st row: S c in 2nd ch from hook, s c in each ch across until row measures 15 inches (this stitch has a tendency to shrink as work progresses). Cut off remaining chain. Ch 2, turn. 2nd row: Skip 1st sc, * s c in next s c, ch 1, skip next s c. Repeat from * across. Ch 2, turn. 3rd row: S c in each ch-1, making ch 1 between each s c and ending row with s c in turning ch-2. Repeat 3rd row for 3 inches. Ch 1, turn. Next row: S c in each s c and in each ch across, turn. Do not break off, but work remainder of Back in pattern as follows:
1st row: Ch 3 (to count as d c), skip 3 sts, in next st make 2 d c, ch 2, 2 d c (shell). Distribute 28 shells across row, skipping more or less sts between shells and ending with d c in last st. 2nd row: Ch 3, * in ch-2 of next shell make 2 d c, ch 2, 2 d c. Repeat from * across, ending with d c in top of turning ch-3. Repeat 2nd row for 7½ inches. Break off. To start sleeve, ch 22 to measure about 5 inches; work in pattern across previous row of Back, ch 26, turn. Next row: In 6th ch from hook make a shell, * skip 2 ch, shell in next ch. Repeat from * to end of chain (7 shells), shell in d c; continue in pattern across, making shell in d c at end of row, 7 shells on chain as before. Ch 3, turn. Now work in pattern over entire row, but ending row with a shell (omit last d c) and making ch-3 to turn, until piece measures 6½ inches from 1st row of sleeve shaping. Ch 1. turn. Keeping work flat, work s c across row. Fasten off.
Leaving about 8 inches free for neckline, sew 5 buttons along each shoulder edge to bottom of sleeve, distributing them evenly.
FRONT … Same as Back but, on s c-row across top, make five ch-7 loops along each shoulder edge to correspond with buttons on Back. Fasten off.
Sew up underarm seams, leaving waistband open at sides. Sew 3 buttons on each side of Back waist-band, and make ch-7 loops on Front to correspond.