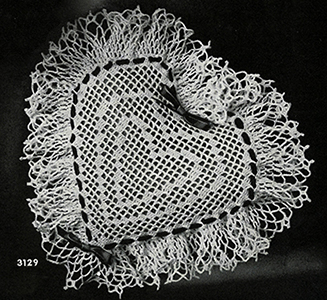 Materials Required—
AMERICAN THREAD COMPANY "STAR" MERCERIZED CROCHET COTTON
1 175-yd. Ball White, Size 50.
Piece of Material 8 x 14 inches.
Cotton for stuffing.
Steel Crochet Hook No. 12.
Cut paper pattern in shape of heart, 4¾ inches through center and 6½ inches at its widest part. Fold material in half, pin pattern in place and cut. Sew, leaving point open, fill with cotton and sew remainder.
COVER. Ch 8, d c in 1st ch, ch 8, d c in d c, 1 d c in each of the next 3 chs, ch 2, d tr c in base of last d c, (d tr c: thread over needle 3 times and work off all loops 2 at a time) ch 8, turn.
Next Row—D c in 1st d c, 2 d c in mesh, d c in d c, ch 2, skip 2 d c, 2 d c in next mesh, d c in d c, ch 2, d tr c in same space, ch 8, turn, and continue working back and forth in same manner following chart.
To decrease a mesh at beginning of row, sl st back over 1st mesh.
Lace ribbon around pincushion and finish with bows as illustrated.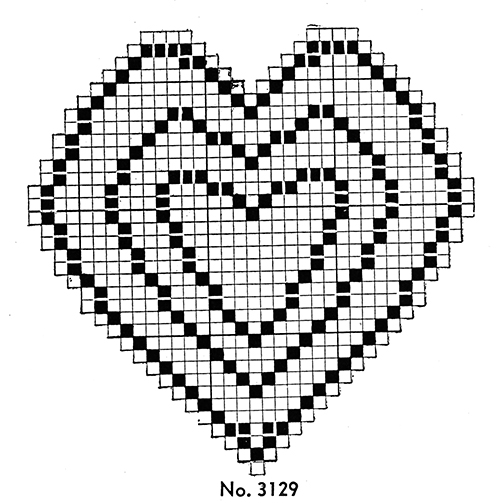 other patterns in leaflet: