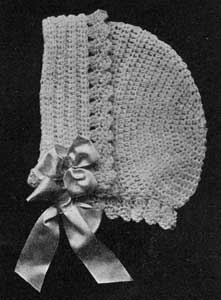 MATERIAL-1 skein white and 1 skein color Woolco Shetland Floss. No. 3 ½ Woolco hook. 1 ½ yards ribbon.
Chain 3, join with slip stitch. Join every row with slip stitch and chain 1.
1ST ROW-10 half double crochet in ring. Wrap, draw yarn through, wrap, take off 3 loops.
2D ROW-*2 stitches in each stitch.*
3D ROW-*2 stitches in 1st stitch, 1 in next.*
4TH ROW-*2 stitches in 1st stitch, 1 in each of the next 2 stitches.*
Increase in this way until there are 7 stitches between each increase. Make 2 rows even.
Then make 11 rows even working back and forth, leaving off 2 sections for back.
Make 1 row taking back loop, then 8 rows, taking both loops.
BORDER-With color make 3 double crochet in every 3d stitch across front. Turn, make 1 single crochet, 3 chain, 2 double crochet in 1st stitch of every group. Fasten off.
Hold the turn-over in place and make the same border across back.
Place ribbons as illustrated.
other patterns in leaflet: