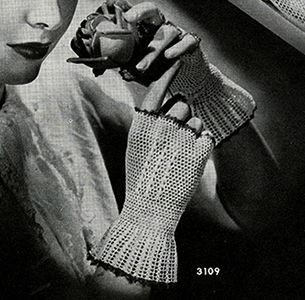 Materials Required—
AMERICAN THREAD COMPANY "STAR" MERCERIZED TATTING COTTON
4 75-yd. Balls White.
1 75-yd. Ball Red or any Color desired.
Steel Crochet Hook No. 11 or 12.
For a larger size use No. 10 needle.
Work same as Gloves No. 3107 to fingers, then work first 2 rows of each finger and thumb. Finish with same edge as Gloves No. 3107.
other patterns in leaflet: