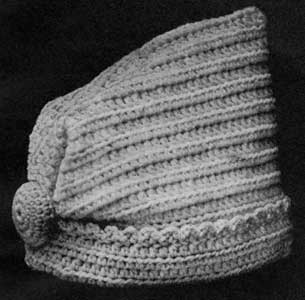 MATERIAL-2 skeins white, 1 skein color Woolco Germantown Zephyr. No. 4 Woolco hook. 1 large button mould.
With white chain 39.
1ST ROW-Make a half-double crochet in each stitch, thus: wrap, take up both loops, wrap, take off 3 loops. Turn, chain 1 at end of row.
Make 40 rows even. Fold in half, sew edges together. Join color and holding right side toward you, make 1 row of single crochet taking both loops. Join, chain 1, 1 row of single crochet taking back loop. Join, chain 1. Make 4 rows half-double crochet. Finish with a picot of 1 single crochet, 1 chain, 1 single crochet, in every other stitch. Fold one side seam in a double box plait. Fasten in place with button.
COVER FOR BUTTON-1ST ROW-Chain 3, join. Make 8 single crochet in ring.
2D ROW-Make 2 stitches in each stitch.
Increase until work is as large as mould. Then decrease every 2d stitch for 2 rows. Place mould in cover, draw together. Sew on as illustrated.
other patterns in leaflet: