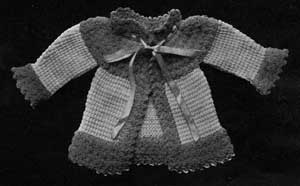 MATERIAL-2 skeins of white and 2 skeins of color Woolco Germantown Zephyr. No. 4 Woolco hook. 3 yards ribbon.
YOKE-With color chain 57. On this make 27 star stitches. Insert hook in 3d stitch from hook, pull through, take up a loop in 4th and 5th stitches, take up yarn, pull through 4 loops on hook, chain 1. *Pull yarn through the eye of star, through the loop back of last stitch, take up 2 new chain stitches, pull yarn through 5 loops on hook*. Repeat to end of chain.
2D ROW-Make 2 stars in each star.
3D, 4TH, 5TH ROWS-Without increasing.
This finishes yoke.
SLEEVE-With white, join in 7th star from front, make 3 loops for afghan stitch in each star for 13 stars, or 39 stitches.
Decrease 1 stitch each side of center stitch every other row until there are 25 stitches.
Finish with 2 rows of star stitch in color and 1 row of single crochet, with 2 single crochet in eye of star.
Make other sleeve in same way. Crochet edges of sleeves together.
Around neck make a row of double crochet with 1 chain between.
BODY - Join white and take up 3 loops in each star stitch.
Make 15 rows of plain afghan stitch. Make 2 rows of star stitch across the bottom. Join yarn at the neck, make 1 row of star stitch around to other side of neck. Join yarn at neck and make a row of star stitch around entire sacque, including collar.
Trim with ribbon as indicated.
other patterns in leaflet: