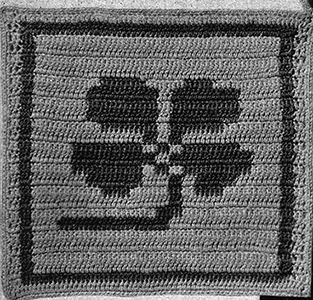 Materials: Clark's O.N.T. or J. & P. Coats Pearl Cotton, size 5, 2 balls of Ecru and 1 ball of Green.
Milward's steel crochet hook No. 7.
Gauge: 10 d c make 1 inch; 4 rows make 1 inch. (Each individual square indicates 3 d c.)
Starting at bottom, with Ecru ch 68 (to measure about 7¼ inches.) 1st row: D c in 4th ch from hook, d c in each ch across (66 d c, counting turning ch as 1 d c). Ch 3, turn. 2nd row: D c in next d c, thread over, insert hook in next d c, draw thread through, thread over and draw through 2 loops, drop Ecru, attach Green and draw through remaining 2 loops. Holding Ecru along top of row, and working over it so as to conceal it, make d c in each d c across to within last 3 d c (counting turning ch as 1 d c) and, leaving the last 2 loops of last d c on hook, drop Green, pick up Ecru and draw through remaining 2 loops; then make 3 Ecru d c. Ch 3, turn. Hereafter follow chart to complete one side of pot holder, always concealing the unused color and completing the last d c of each color with the contrasting color. Break off. Make another piece same as this.
Make a pad by cutting a square of padding, flannel or any soft material, slightly smaller than one of the crocheted pieces, and tack it to wrong side of first piece. Place the wrong side of the second piece against the padded side of first piece and, with Ecru, work a row of s c all around outside edges working through both thicknesses. Make a ch-24 loop at one corner; then work s c closely together in loop. Fasten and break off.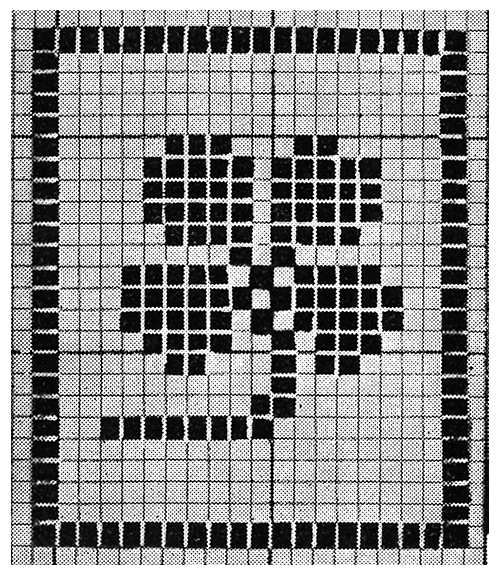 other patterns in leaflet: