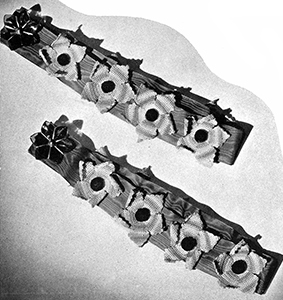 Materials: Clark's O.N.T. or J. & P. Coats Mercerized Crochet, size 30, 1 ball each of Shaded Yellows, Shaded Blues, Shaded Pinks and Shaded Lavenders.
Clark's O.N.T. or J. & P. Coats Six Strand, 4 skeins of Black.
Milward's steel crochet hook No. 10.
1¼ yds. green moire ribbon, 1½ inches wide.
2 glass push pins.
The quantity of thread specified is sufficient for a pair of tie-backs.
Flowers are made individually and then sewed to ribbon.
Flower. Starting at center, ch 15, join with sl st to form ring. 1st rnd: Ch 1, 30 s c in ring. 2nd row: S c in each of next 6 s c. Ch 1, turn. Then work as for 2nd row, increasing 1 s c at end of each row until there are 14 s c in the row. Then dec. 1 s c at both ends of each row until 2 s c remain. Then sl st in each of 2 s c. Fasten and break off. Work remaining 4 petals in same way. Tack petals together with needle and thread. Make 2 flowers of each color for each tie-back.
Centers: Starting at center, with Six Strand ch 2. 1st rnd: 5 s c in 2nd ch from hook, join with sl st to turning ch. 2nd rnd: Ch 1, s c at base of ch-1 just made, 2 s c in each s c around (12 s c in rnd). Join. 3rd and 4th rnds: S c in each s c around. Cut thread about 6 inches long, and pull through last loop. Stuff center with same material and, with 6-inch length of thread, sew opening neatly.
Cut ribbon in half and sew a narrow hem at each cut edge. Leaving 2 inches free at end of one piece of ribbon, place 4 flowers (1 of each color) in position, as in illustration, and sew in place. Leave 2 inches free at opposite end, and sew on 4 flowers to correspond. Place a black center on center opening of each flower, and sew to ribbon. Work other tie-back in same way. Fasten tie-backs to window frame with push pins.
other patterns in leaflet: