This free pattern originally published by Clark's O.N.T. J&P Coats as Bags, Book 228.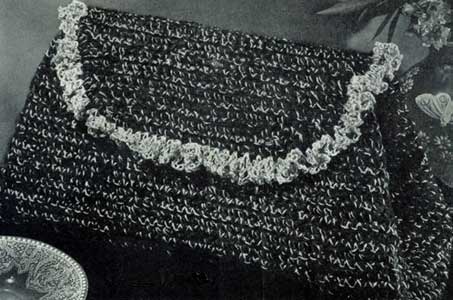 MATERIALS: CHADWICK'S RED HEART KNITTING WORSTED, 6 balls (1 oz. balls) of Maroon ... J. & P. COATS OR CLARK'S O.N.T. PEARL COTTON, Size 5, 6 balls of Dusty Pink ... Bone Crochet Hook No. 7 ... ½ yard each of lining material and buckram.
Use 1 strand each of Knitting Worsted and Pearl Cotton throughout.
GAUGE: 4 sc make 1 inch; 4 rows make 1 inch.
Starting at top of bag, make a chain 18 inches long. 1st row: Sc in 2nd ch from hook and in each ch across. Ch 1, turn. 2nd row: Sc in each sc across. Ch 1, turn. Repeat the 2nd row until piece measures 16 inches. Break off.
FLAP ••• Work as before across the center 9 inches of last row until Flap measures ½ inch. Then dec 1 sc at end of each row until Flap measures 4 ½ inches – to dec 1 sc, work off 2 sc as 1 sc. Break off. Work a row of sc around outer edges of Flap. Break off yarn.
RUFFLE ••• 1st row: Attach Pearl Cotton to base of Flap, * ch 5, sc in next sc, ch 5, sc in same sc. Repeat from * along edge of Flap. Turn. 2nd and 3rd rows: * Ch 5, sc in next loop. Repeat from * across. At end of 3rd row, break off.
Fold the first 8 inches of crocheted piece and sew up sides. Line bag with buckram and lining material. Fold sides in to form gussets and tack. Fasten Flap with a snap fastener.
Other great patterns from Bags, Book 228:
Crochet Patterns
Bag No. 2785
Bag No. 2786
Bag No. 2788
Bag No. 2789
Bag No. 2791
Bag No. 2792
Bag No. 2793
Bag No. 2794
Bag No. 2795
Bag No. 2796
Bag No. 2798
Bag No. 2799
Bag No. 2800
Bag No. 2801
Knitting Patterns