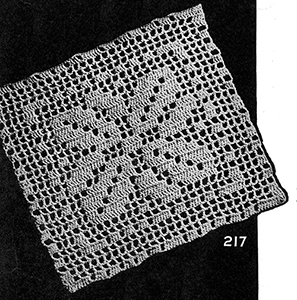 Filet Motifs which will make attractive Luncheon Sets, Scarfs, Pillows, Curtains, etc.
If a heavy Motif is desired use any of the following Threads:
"De Luxe" Mercerized Crochet and Knitting Cotton—"Trojan" Crochet Cotton—"Puritan" Crochet Cotton—"Star" Pearl Cotton size 5—"Clover" Knitting and Crochet Cotton.
Any of the following Threads will make a dainty Motif:
"Star" Six Cord Mercerized Crochet Cotton. Sizes 20 to 100—"Star" Tatting Cotton—"Gem" Crochet Cotton sizes 20 to 50.
No. 217
Ch 93 for 30 meshes, work 1st d c in 4th st from hook and work back and forth according to illustration.
other patterns in leaflet: