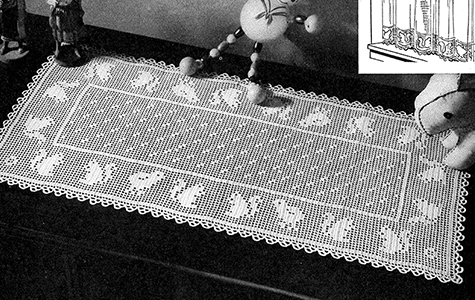 Materials Required. American Thread Company "Star" Crochet Cotton size 30.
6 Medium Balls or 3 Large Balls in White, Ecru, Cream or Colors.
Steel Crochet Hook No. 11 or 12.
Ch 215 for 70 open meshes, work 1st d c in 8th st from hook and work back and forth according to diagram.
EDGE. Long side, fasten thread in 2nd d c from corner, 3 s c in each of the first 4 meshes, ch 6, turn, s c in 6th s c, ch 6, s c in 1st s c, ch 1, turn, 9 s c over first loop, 5 s c over next loop, ch 6, turn, s c in center st of first scallop, ch 1, turn, 9 s c over loop, 4 s c over remainder of unfinished scallop, repeat from beginning across side, at corner work 3 s c in next mesh, 6 s c in corner mesh, 3 s c in next mesh, ch 6, turn and work scallop.
Across short sides spread 2 scallops over 5 meshes to make scallop even at corner.
This scarf may also be made in "Gem" Mercerized Crochet Cotton.
The border of scarf featured will make attractive inserts for Curtains, Crib Cover or Baby Pillow.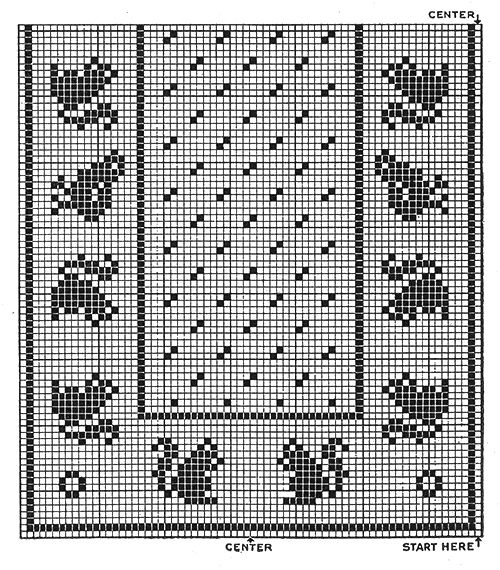 other patterns in leaflet: