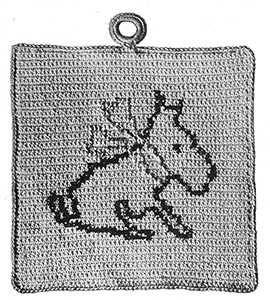 Materials Required. American Thread Company. "Puritan," "Trojan" or "De Luxe" Crochet Cotton.
1 Ball of White, Ecru or Cream.
1 Ball Yellow or any color desired.
1 Skein "Star" Art Thread, Black.
Steel Crochet Hook No. 7 or 8.
With Cream, Ch 57 (about 6 inches) turn and work 56 s c on ch. Continue working rows of s c until pot holder is square. Work a second section in Yellow.
Embroider Scottie on the Cream section following the cross st chart, working the dog in Black and ribbon bows in Yellow or any color used on the reverse side of pot holder.
RING. With Yellow, wind thread around finger 15 times and work s c over ring, attach to pot holder and crochet the two sections together with a row of s c.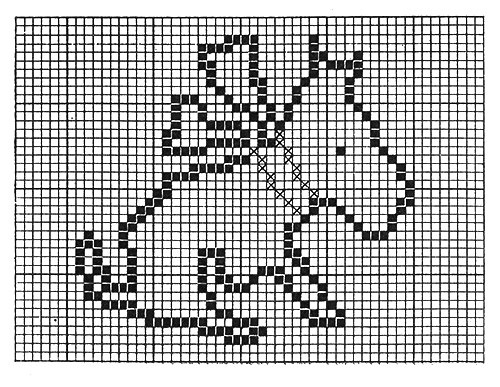 other patterns in leaflet: