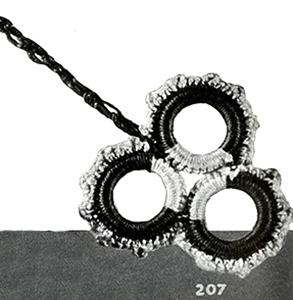 Materials Required. "De Luxe" Mercerized Crochet and Knitting Cotton or "Star" Six Cord Mercerized Crochet Cotton size 10.
About 20 yds. each of Yellow and Rust or any two colors desired.
3 Bone Rings.
Steel Crochet Hook No. 8 and 10.
Using large hook with Yellow work 10 s c over each ring without breaking thread and join to first st of first ring. Attach Rust and work 30 s c over remainder of ring, join to Yellow, sl st into Yellow of next ring, work 30 s c over ring and finish last ring in same manner. Pick up the Yellow and with the fine needle work 4 s c picking up the back loop of st only, ch 3, 4 s c, repeat all around.
CORD. Take a length of Rust, double it and fasten between rings * pull up thread the length of a d c, thread over, slip through loop on needle, s c over single thread of loop, and repeat from * for desired length.
other patterns in leaflet: