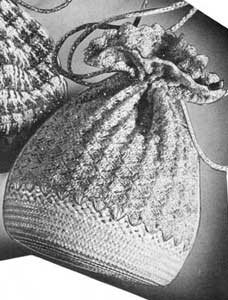 MATERIALS - Sultana Beauty-Glo, 4 balls.
Steel Crochet Hook, Size 5.
Straw bag form about 6 ½ ins. in diameter.
GAUGE: 2 patterns=1 inch
Round 1-Working from right side about ½ in. below top, * 1 sc, ch 2, 5 dc, all in one space of bag form; repeat from * 39 times more, spacing pats. evenly around edge; join with slip st in first sc.
Round 2-Ch 2, turn, * skip 1 sc and 5 dc, a shell of 1 sc, ch 2, 5 dc all in space under next ch 2; repeat from *, join. Repeat last round until 8 ins. from beg. Fasten off.
CORDS-With double strand, ch 36 ins. Work 1 slip st in horizontal loop at back of each st. Fasten off. Make 2. Draw cords through pat. in opposite direction at about 2 ins. and 2 ½ ins. from top, to form drawstrings, with top cord alternating under and over shells and lower cord over and under shells. Join ends of cords.
Other great patterns from Fashions and Accessories, Volume S20:
Crochet Patterns
Sparkle Sweater
Jewel Sweater
Sunbeam Sweater
Stole
Play Shoes
Slippers
Bag 1
Bag 2
Knitting Patterns