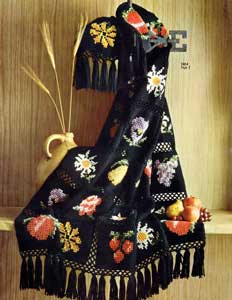 Approximate Size: 46" x 62"
MATERIALS REQUIRED:
Columbia-Minerva Knitting Worsted (4 oz skein)-11 skeins of Main Color (MC) - Black #5023 and 1 skein in each of the following colors for cross stitch embroidery.
White #5000
Lilac #5025
Dark Green #5086
Purple #5056
Green #5027
Dark Red #5019
Orange #5006
Light Coral #5010
Gold #5028
Dark Coral #5040
Amber #5003
1 "Boye" Afghan Crochet Hook "J" (Size 9), 1 "Boye" Steel Crochet Hook "0" and 1 "Hiawatha" blunt end tapestry needle
Crochet Chart 1
Crochet Chart 2
Crochet Chart 3

Gauge: 4 sts to 1 inch; 3 rows to 1 inch
AFGHAN STITCH: Row 1-Draw up a loop in each ch, leaving all loops on hook, then take off loops as follows: yo hook and through 1 loop, *yo hook and through 2 loops, repeat from * across row, ending with 1 loop on hook. Row 2-Counting loop on hook as 1st st, draw up a loop in each upright st across row to within last st, insert hook through center of last st (to keep work from going on the diagonal). Take off loops as in Row 1. Repeat Row 2 for pat.
SQUARES: (Make 35) - With "J" hook and MC ch 30. Work in Afghan St (30 sts) for 22 rows. Sl st across row, break yarn and fasten. Work should measure about 7 ¼ inches square.
TO EMBROIDER SQUARES: Block squares on wrong side of work. Embroider designs in cross st (1 cross st over 1 Afghan St), following charts and making 4 each of apples, grapes, pears, cherries, pansies and black-eyed-susans; 3 rose and 8 daisies.
TO JOIN SQUARES: Make 5 panels of 7 squares, following diagram for placement of squares. With Size O hook, attach Black on right side of work at corner of lower edge of top square. Row 1-1 sc in first st, ch 7, skip 1 st, 1 sc in next st, *ch 5, skip 2 sts, 1 sc in next st, repeat from * across square (10 loops), ch 6, turn. Row 2-* 1 sc in space, ch 5, repeat from * across row, ch 2, turn. Row 3-Join to top of second square by working 1 sc in first st, ch 2, 1 sc in next loop of first square, ch 2, skip 1 st of second square, * 1 sc in next st, ch 2, 1 sc in next loop, ch 2, skip 2 sts, repeat from * across square. Break yarn and fasten. Join second square to third, etc, until there are 7 squares in panel. Join the 5 panels in same manner, working across entire length of Afghan. Work Rows 1 and 2, then repeat Row 2 across each end of Afghan and 1 row of sc at each side.
FRINGE: Wind MC around a 5 inch cardboard. Cut strands at one end. Fold and knot 8 strands in every other loop at each end of Afghan.
Other great patterns from Afghans by Columbia Minerva, Volume 742:
Crochet Patterns
Rose Afghan
Crocheted Striped Afghan
Flower and Fruit Afghan
Crocheted Ripple Afghan
Patchwork Afghan
Daisy Afghan
Two Tone Block Afghan
Black Afghan with Roses
Loop Stitch Motif Afghan
Knitting Patterns
Plaid Afghan
Feather and Fan Afghan
Rosebud Afghan
Red and White Striped Afghan
Blue and White Afghan
Leaf Pattern Afghan
Garter Stitch Afghan
Knitted Striped Afghan