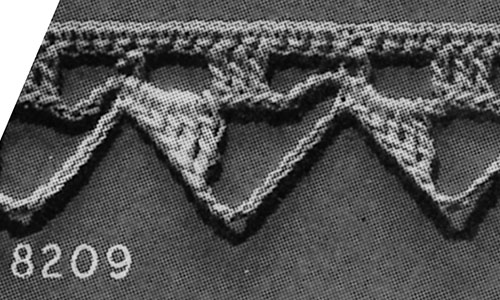 For that "French look" - crisp collars and cuffs ... finely edged! What fashion is more flattering than immaculate lingerie touches, exquisite with hand crochet edgings? Wise women know, too, that several sets in white and color can do worlds to transform one simple dress into different smart costumes!
Use
Clark's O.N.T. or J. & P. Coats Mercerized Crochet, sizes 50 to 80.
J. & P. Coats Tatting Cotton.
Suggest self-shading color.
To begin, make a chain slightly longer than desired length, turn. 1st row: S c in 2nd ch from hook, s c in each ch across. Ch 1, turn. 2nd row: S c in 1st s c, * ch 5, skip 3 s c, d c in each of next 3 s c, ch 5, skip 3 s c, s c in next s c. Repeat from * across, ending row with s c in s c. Break off. 3rd row: With right side of d c row toward you, attach thread in 1st s c on d c row. * In next sp work: 2 s c, 1 half d c, 1 d c, 1 tr; then ch 10, skip 3 d c and ch-5, s c in next s c. Repeat from * across. Break off.
other patterns in leaflet: