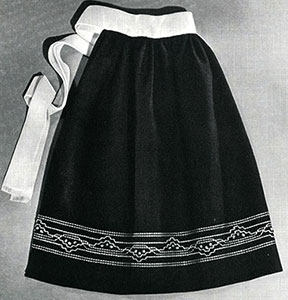 GENERAL INFORMATION: Use 6 strands of Embroidery Floss.
Most huck toweling has single loops on one side and double loops on the other; each set of directions states on which side design is to be worked. Cut thread into 30-inch lengths. When beginning weaving, leave 3 inches of thread free. When weaving is completed, weave back through design for 1 inch, or equivalent. Finish off 3-inch length in same manner. When starting new thread in center of row, begin weaving 1 inch before end of previous thread. When article has been completed, press well on wrong side.
COATS & CLARK'S O.N.T. SIX STRAND EMBROIDERY FLOSS, Art. C.11: 1 skein each of No. 10-A Canary Yellow and No. 120 Crimson.
Milwards Tapestry Needle No. 19.
1 yard of Startex Swede Weave Colored Huck, 17 inches wide ... 45 cupped sequins and matching beads ... 1¾ yards velvet ribbon, 1½ inches wide.
Use single loop side of toweling for right side. Mark center loop 2½ inches above one selvedge edge.
Starting at A (center front) and working to each side edge, follow diagram, repeating from A to B. Make ½-inch hems on side and lower edges. Gather top edge in to measure 13 inches and sew velvet ribbon in place, leaving 25 inches free at each side for ties. Sew sequins in center of each design as illustrated. If desired, ravel ½ inch at end of each tie to form a fringe.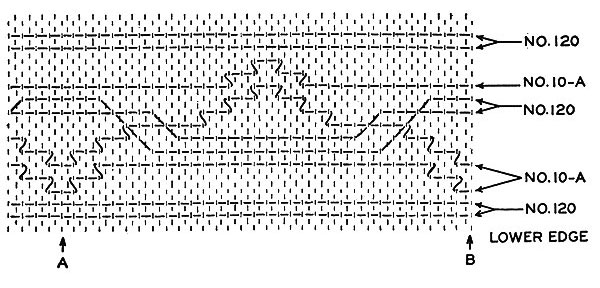 other patterns in leaflet: