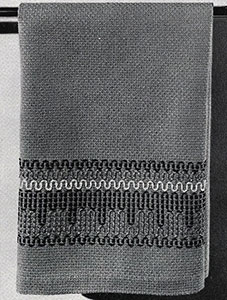 GENERAL INFORMATION: Use 6 strands of Embroidery Floss.
Most huck toweling has single loops on one side and double loops on the other; each set of directions states on which side design is to be worked. Cut thread into 30-inch lengths. When beginning weaving, leave 3 inches of thread free. When weaving is completed, weave back through design for 1 inch, or equivalent. Finish off 3-inch length in same manner. When starting new thread in center of row, begin weaving 1 inch before end of previous thread. When article has been completed, press well on wrong side.
COATS & CLARK'S O.N.T. SIX STRAND EMBROIDERY FLOSS, Art. C.11: 1 skein each of No. 1 White, No. 48-A Dk. Hunter's Green and No. 120 Crimson.
Milwards Tapestry Needle No. 19.
⅔ yard of Startex Swede Weave Colored Huck, 14 inches wide.
Using single loop side of toweling for right side, make ½-inch hems on all edges.
Starting 1½ inches above lower edge at right side edge, follow diagram, repeating from A to B for design.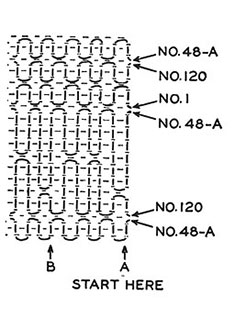 other patterns in leaflet: