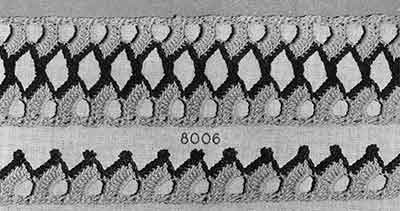 Materials: Clark's O.N.T. or J. & P. Coats Mercerized Crochet, size 10, color 38 Dark Orange and 130 Seal Brown. Milward's steel crochet hook No. 6 or 7.
Edging: With Orange, ch 8, d c in 4th ch from hook, ch 4, skip 2 sts and s c in next. * Ch 3, turn, 8 d c under loop, d c in d c, d c in 3rd st of ch-3. Ch 3, turn, d c in next st, ch 4, skip 2 d c's of scallop, s c in next d c. Repeat from * for desired length. Attach Brown at end of foundation ch of 1st scallop. ** Ch 3, 1 s c in tip of scallop, a ch-5 picot, s c in back loop of each of 5 sts along scallop, sl st between this and next scallop. Repeat from ** along scallops.
Insertion: Make a strip same as edging, then make another strip and when working Brown row, join to 1st strip as follows: Instead of making ch-5 picot, ch 1 and make a sl st in picot of adjacent scallop of 1st strip.
other patterns in leaflet: