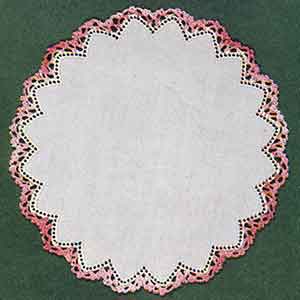 Doilies
Outline shows the finished size of the linen center for this interesting doily. To mark your linen for hemstitching, make a tracing on tissue paper of the doily you wish to make. Your tracing can be transferred to the linen and the hemstitching done on this line.
The edgings are made with J. & P. Coats or Clark's O.N.T. Mercerized Crochet, size 40 or 50, White or Ecru. Dainty pastels and lovely shaded colors are obtainable in size 50. Use Milward's steel crochet hook No. 10 or 11.
8077 • piecrust
Attach thread in 3rd sp of hemstitching on upward slope of scallop. * Ch 4, skip 2 sps of hemstitching, 2 s c in next sp. Repeat from * around scallop. Then skip next 3 sps, 2 s c in next (this starts work on next scallop). Continue around doily, always skipping 3 sps between scallops. After last ch-4, make 2 s c in sp in which thread was attached. 2nd row: * S c under next ch-4, ch 3, s c under same loop, ch 4. Repeat from * around. Fasten off.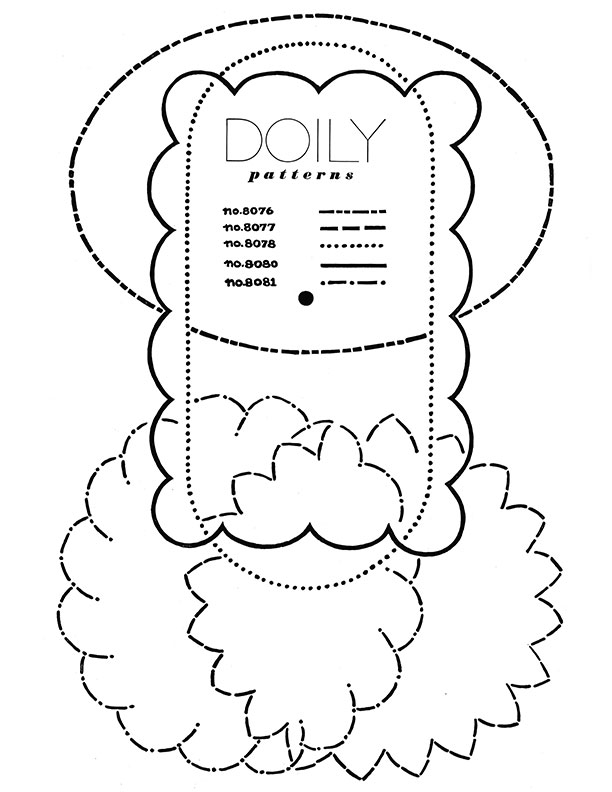 other patterns in leaflet: