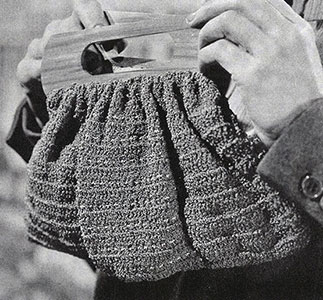 Materials: Clark's O.N.T. Boucle, 3 balls of color 540 Autumn Glow and 1 ball of 721 White Ivory. Milward's steel crochet hook No. 3. A tapestry needle (large eye). 6½ inch wooden handles and lining material.
With Autumn Glow, ch 34, turn. 1st row: D c in 3rd ch from hook and d c in each ch across. Ch 2, turn. 2nd to 39th rows incl: D c in each st of previous row. Ch 2, turn. At end of 39th row, break thread. Make two more pieces same as this. Before joining pieces, block each piece on an ironing board, pressing with a moderately hot iron and damp cloth. Thread tapestry needle with White Ivory. Starting at beginning of 2nd row of one piece, work a running stitch over 1st d c, under 2nd d c, over next d c, etc. across the 2nd row. Run thread along edge to 4th row, and work same as 2nd row. Continue in this way, working only into every other row of entire piece (this to be center panel and the remaining two pieces are side panels). Join the side panels one on each side of center panel.
Fold work over in half along the 20th row, and sew up sides, leaving 1½ inch opening at top on both sides. With Autumn Glow, gather up top to measure 6½ inches and sew to handle. Finish other side the same way. Line bag.
other patterns in leaflet: