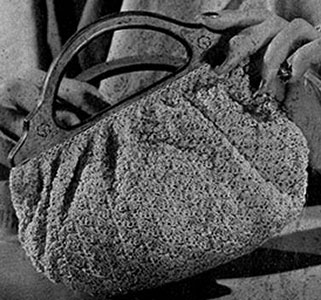 Materials: J. & P. Coats Knit-Cro-Sheen, 1 ball of color 26 Nile Green, or Clark's O.N.T. Cronita, 2 balls. Milward's steel crochet hook No. 4. 1 pair of 7-inch wooden handles. Lining material.
The back and front of bag are made individually and then joined with a gusset band.
To begin, ch 94 (to measure about 9½ inches), turn. 1st row: 2 d c in 4th ch from hook, * skip 1 ch, s c in next ch, skip 1 ch, 3 d c in next ch, repeat from * to end of ch, ending with skip 1 ch, s c in last ch. Ch 3, turn.
2nd row: 2 d c in first s c, * skip first d c of next shell, s c in center d c of same shell, 3 d c in next s c, repeat from * across, ending row with s c in turning ch-3. Ch 3, turn.
3rd to 11th rows incl: Repeat 2nd row. At end of 11th row, ch 1, turn.
12th row: S c in 2nd d c of first shell (1 shell decreased), continue in pattern across, ending with s c in 2nd d c of last shell of previous row. Ch 1, turn. Repeat 12th row until 11 shells remain. Break off.
To finish top, attach thread to beginning of foundation ch, and work a row of s c across the foundation ch making 1 s c in each st. Ch 2, turn. Work 2 more rows of s c's making s c in each s c of previous row. Break off. This completes one side.
Make other side the same.
Gusset Band. Ch 7, turn.
1st row: S c in 2nd ch from hook, s c in each ch across. Ch 2, turn.
2nd and subsequent rows: S c in each s c. Ch 2, turn. When work measures 15 inches, break off. Sew gusset band to one side of bag along the edges (excepting the top edge), easing any fullness of bag into band between the 12th row and the last row of bag. Sew other side of bag to this band on opposite side in the same manner, but at both ends of bag leaving open 1½ inches at the top for opening. Turn band under at side opening, to form a tapering line in order to avoid an extended piece of gusset at opening. Sew in lining and sew handles to bag.
Strap Handle: Using thread double, make a chain 24 inches long, turn and work a row of s c along chain and break off.
Slides. Make 2 pieces to hold handles in place by working the same way as the handles, only making each piece 1¼ inches long. Sew these pieces around handles to form slides. Attach handles as shown in illustration and slip one slide down each end of handle.
other patterns in leaflet: