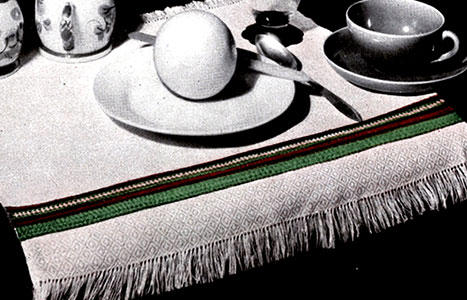 Peasant embroideries are a source of inspiration for color and design. These breakfast or luncheon doilies reproduce the gay colors so well loved by these people, and are a new note in crochet. Simple, but effective bandings can be made and applied to ready made fringed place mats or squares of linen. The new colors available in mercerized crochet are excellent for these designs. J. & P. Coats Pearl Cotton size 8 may be preferred and produces soft, beautiful crochet work.
Materials: Clark's O.N.T. or J. & P. Coats Mercerized Crochet, Size 30. Milward's steel crochet hook No. 8 or 9.
1 ball each of:
55 – Navy Blue – referred to as Color A
82 – Autumn Glow – referred to as Color B
106 – Sport Green – referred to as Color C
9 – Yellow – referred to as Color D
With Color A, make ch desired length plus 2 or 3 inches. 1st row: Make a 4-dc cluster in 3rd ch from hook, * skip 1 ch of foundation ch, 4-dc cluster in next ch, and repeat from * until this row measures the length of band desired. Care should be taken to have work lie flat. Then make 1 d c in next st, ch 3, turn. 2nd and 3rd rows: 1 cluster under 1st ch-1 of previous row, * 1 cluster under next ch-1, and repeat from * to end of row, then, 1 d c in 3rd st of ch-3, ch 3, turn. Break off thread at end of 3rd row. Following rows are made like 2nd row but with change of colors. 4th and 5th rows: Color B. 6th row: Color C. 7th row: Color D. 8th row: Color C. 9th row: Color A. When finished, hem this band down on to a fringed place mat.
other patterns in leaflet: