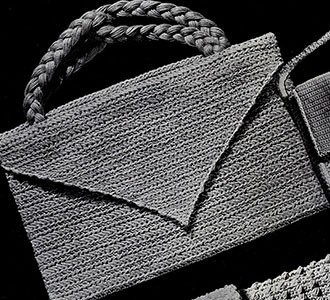 Materials: J. & P. Coats Knit-Cro-Sheen, 3 balls of color 70 Blue Jewel; or Clark's O.N.T. Knit-Crochet, 9 balls. Milward's steel crochet hook No. 2. Nine-inch slide fastener.
Use thread double throughout. Bag has 3 compartments. Ch 64, turn. 1st row: 1 half d c in 3rd ch from hook, half d c in each st of ch, ch 2, turn. 2nd to 46th rows incl: 1 half d c through middle loop only of each st, ch 2, turn. Fasten off.
Center compartment: Starting at tip of flap, ch 3, turn. 1st row: 2 half d c's in 1st st of ch, ch 2, turn. 2nd and subsequent rows: Work same as other piece through middle loop only, and increase 1 st at beginning and 1 st at end of each row until there are 62 sts to the row. Then work 50 rows straight. Shape other flap to correspond, by decreasing 1 st at each end, every row.
Take first piece made and fold envelope style. Then fold center compartment and insert in outside envelope, letting flaps turn down over outside. Whip sides together carefully. Sew in slide fastener at top of center compartment.
Handles: Braid 3 strands of 30 threads each, making two 12-inch lengths. Loop handles as illustrated, slip ends through top of flap about 1½ inches in from sides, and sew ends to top of pocket beneath flap.
Since the bag is made of two strands, a tweed effect can be obtained by combining colors, such as Ecru and Hunter's Green or Skipper Blue.
other patterns in leaflet: