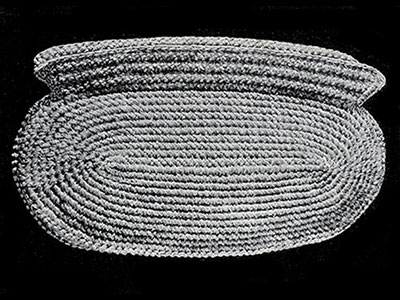 Materials: Clark's O.N.T. Knitting and Crochet Cotton, 2 balls of 40 French Rose and 2 balls of White; or J. & P. Coats Crochet Cord, 6 balls of Rose and 4 balls of White. Milward's steel crochet hook No. 2. Nine inch slide fastener.
Thread is used double throughout. Starting at center, with 1 strand of Rose and 1 of White, ch 33, turn. 1st rnd: 4 s c in 2nd ch from hook, s c in each of next 30 sts, 4 s c in last st. Then work 30 s c along other side of ch. 2nd rnd: Draw a loop through last s c made, draw a loop through 1st s c in 1st rnd, then draw through all 3 loops at once. Make 1 s c in 1 st s c of 1st rnd (an increase), then make a double st. (To make double st, insert hook in same place where last st was made, pull loop through, insert hook in next st, pull loop through, thread over and draw through all 3 loops at once).
Make 2 more double sts, then increase 1 s c in st where last half of last double st was made. Work 31 double sts, increase 1 s c, 3 double sts, increase 1 s c, then work across other side with 31 double sts. 3rd to 10th rnds incl: Continue with double sts, increasing 3 s c at each end (6 increases to a rnd), so that work will be oval and lie flat. (120 sts in last rnd).
Top flap: Work across center 44 sts at one side only, for 5 rows, increasing 1 st at beginning of each row.
At end of 5th row, sl st down one side of the 5 rows, then turn and work double sts over the sl sts. Increase 2 s c in corner, then work double sts over 5th row, increase 2 s c in next corner and work double sts across other end of rows. Do not break thread, but to make gusset, continue around oval to starting point of top flap—making 4 decreases to the row. Make 4 rows with 4 decreases, then break thread. Make other half of bag the same. Whip the two pieces together, sew in fastener and line bag if desired.
other patterns in leaflet: