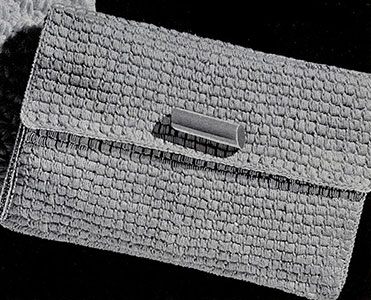 Materials: Clark's O.N.T. Knitting and Crochet Cotton, 26 Nile Green, 2 balls; or J. & P. Coats Crochet Cord, 6 balls. Milward's steel crochet hook No. 5 or 6. Bar-shaped button and 2 large snaps.
The stitch: To make the square cluster, draw loop on hook out not quite ¼ inch, thread over, insert hook in st specified in directions, draw up loop not quite ¼ inch, * thread over, insert hook in same st, draw up loop as before. Repeat from * 2 more times (9 loops on hook). Thread over and draw through all loops on hook at once, ch 1 to tighten cluster.
Each row of bag is worked up from the foundation ch. Ch 96, turn. 1st row: Work square cluster in 3rd ch from hook. After tightening ch is made, ch 1 and draw out a loop for another cluster, which is worked in tightening ch of previous cluster. Continue making clusters in this way, until there are 56 clusters in the row. Fasten off. 2nd row: Skip 2 sts (from cluster) of foundation ch, attach thread to 3rd ch, work square cluster. After tightening ch is made, drop st from hook, insert hook in tightening ch of 1st cluster of 1st row, and draw dropped st through, ch 1, make another cluster, joining to 2nd cluster of 1st row as before. Continue in this way for entire row.
Work in this way along foundation ch until there are 32 rows of clusters. Work a row of s c around entire piece. Attach thread at one end of foundation ch and work s c in s c along side of piece for 9½ inches, ch 1, turn. 2nd row: S c in s c to center, skip 1 st of previous row, s c in next st and in each of remaining sts, ch 1, turn. Repeat 2nd row 4 more times. Fasten off and whip together from center of this s c section. Repeat for other side of bag. Fasten flap with snap fasteners, and sew button on flap as in illustration.
other patterns in leaflet: