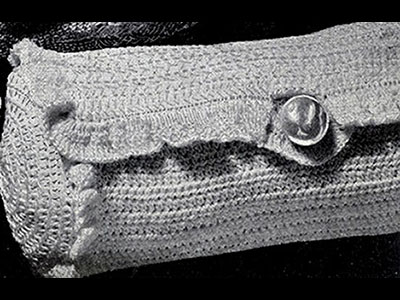 Materials: Clark's O.N.T. or J. & P. Coats Mercerized Crochet, White, 2 balls of size 10 and 1 ball of size 30, for trimming edge. Milward's steel crochet hooks No. 5 and 8.
With size 10, using No. 5 hook, ch 56, turn. 1st row: 1 half d c in 3rd st from hook, 1 half d c in each st of ch, ch 2, turn. 2nd to 49th rows incl: 1 half d c in each st, ch 2, turn. 50th row: 1 half d c in each of next 25 sts, ch 5, (for buttonhole) skip 5 sts and half d c in each of next 25 sts. Fasten off.
Circles: (2) Ch 3, join with sl st to form ring. 1st rnd: 9 half d c in ring. 2nd rnd: 2 half d c in each st. 3rd rnd: * 1 half d c in next st, 2 half d c in next. Repeat from * 8 more times. 3rd to 9th rnds incl: Same as 2nd rnd, making increases over increases and half d c's over half d c's. Line large piece and circles with stiffening and lining material.
With size 30 and hook No. 8, work the frill, at the same time joining the pieces as follows: Attach thread at foundation ch of large piece, insert hook through a st of one of the circular pieces, draw thread through, ch 3, 2 d c in same place. Insert hook in same place in large piece and in next st of circular piece, and make 3 d c. Continue working in this way around circular piece, until 3 sts are left on circular piece, then continue along flap, with 6 dc in each st along side, and 3 d c in each st across edge of flap. Work groups of 6 d c along other side and work in other circular piece as before. Ch 3, turn, and work back over frill making d c in d c. Tack together free sts on circular pieces, and sew on button.
other patterns in leaflet: