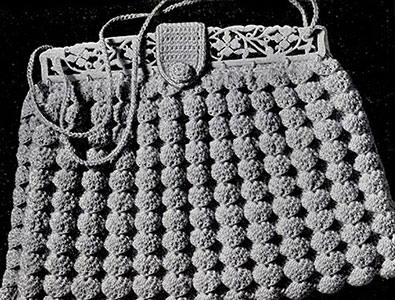 Materials: J. & P. Coats Knit-Cro-Sheen, 2 balls of Ecru; or Clark's O.N.T. Knit-Crochet, 6 balls. Milward's steel crochet hook No. 6. 6- to 7-inch ivory handles. Lining material and 1 snap fastener.
Ch 59, turn. 1st row: 4 tr in 4th ch from hook, ch 1, 4 more tr in same st. * Skip 1 st, sl st in next st, skip 1 st and into next st work 4 tr, ch 1, 4 tr (a shell). Repeat from * 11 more times, then skip 1 st, sl st in next, skip 1 st, and work 4 tr in next (½ shell). Ch 1, turn. 2nd row: * Work a shell in back loop of next sl st, sl st in ch-1 of next shell. Repeat from * across, ending with ½ shell in last tr of last shell, ch 1, turn.
3rd row: Same as 2nd. 4th row: Work same as 2nd, but make shells of 5 tr, ch 1, 5 tr. Repeat 2nd, 3rd and 4th rows until there are 11 rows of raised shells. Make another piece the same. To finish top edges, work 2 rows of s c on other side of foundation ch.
Sew pieces together, leaving 1½ inch openings at each side at the top (the foundation ch edge). Line bag and sew on handles. To make fastening strip, ch 10, turn. S c in 2nd ch from hook, s c in each st of ch, ch 1, turn. Work s c in s c, ch 1, turn. Repeat for desired length. Decrease 1 st at each side on last 5 rows to bring work to a point. S c around strip. Sew on as in illustration and fasten point down with snap fastener. Cover button mold with s c's and sew on point.
Handle: Make ch about a yard long. Turn and work row of sl sts along ch and fasten off. Find center and pin to bottom of opening at one side. Whip along opening. Draw ends through holes in handle from inside out. On other side draw ends through from outside in. Join ends at bottom of opening and whip along opening as before.
other patterns in leaflet: